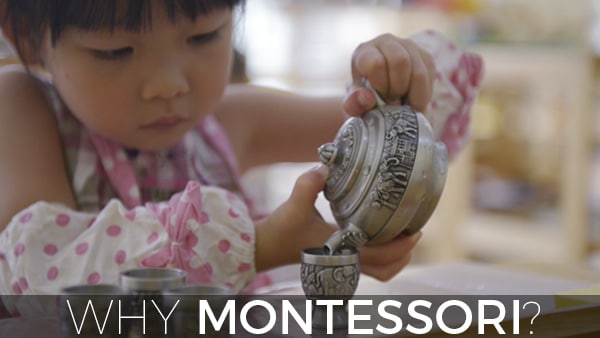 Whether you've never heard of it or have already embodied the aspects of the Montessori way and its educational method, I'd like to share the reasons why I've become so passionate and compelled to make sure it is available to families worldwide.
Montessori helped me understand my children from the very beginning. The principles guided me to appreciate my role as their chaperone in this lifetime and gave me the tools to embody a passage from The Prophet by Kahlil Gibran that had been read at my wedding by my father:
And a woman who held a babe against her bosom said,
'Speak to us of Children.'
And he said: 


Your children are not your children. 


They are the sons and daughters of Life's longing for itself. 


They come through you but not from you, 


And though they are with you, yet they belong not to you. 


You may give them your love but not your thoughts. 


For they have their own thoughts. 


You may house their bodies but not their souls, 


For their souls dwell in the house of tomorrow,
which you cannot visit, not even in your dreams. 


You may strive to be like them,
but seek not to make them like you. 


For life goes not backward nor tarries with yesterday. 


You are the bows from which your children
as living arrows are sent forth. 


The archer sees the mark upon the path of the infinite,
and He bends you with His might
that His arrows may go swift and far. 


Let your bending in the archer's hand be for gladness; 


For even as he loves the arrow that flies,
so He loves also the bow that is stable.
Click here to download this excerpt.
Today, after years of studies and practice, it has given me the tools necessary to guide and mentor you. Helping you to be the very best version of yourself, the parent you want to be, and the guide your child needs you to be.
When we truly understand the essence of what children require from us and understand their basic and essential needs, we are properly equipped to guide them and nurture their immense potential.
So why Montessori, you ask.
To this day it is the most comprehensive body of research that I have found to support and give proper guidance to parents and educators, benefiting children and families everywhere.
Knowing that modern research endorses what Dr. Montessori discovered and shared more than a century ago, only confirms my choice.
It is a respectful, kind and loving method of guiding our children, the 'adults in the making' as I like to call them, to be who they are meant to be.
The Montessori approach considers the child a full-fledged individual from the time of birth and knowing this assists us in caring for them with the utmost respect they deserve, preparing our homes and ourselves to ease their adaptation to the time, place, and culture they have been born into.
The beauty and depth of the Montessori method takes

into account all of the different needs and milestones the human being goes through from birth thru adulthood (and more recently for elder care).
My focus is to give you an appreciation and the proper tools you need to create a firm and solid foundation for your child's natural development from the time they are born through early childhood.
The essence and the foundation of our being is formed during those early years, setting the stage for all that is to come is crucial
So why Montessori, you ask.
Because it is what makes the most sense and has felt to be the most natural and instinctive approach for my parenting.
I want you to discover it for yourself, how it can support and encourage you to be the parent you want to be and the parent your child so desperately needs you to be.
Are you intrigued or want to know more about how you can be the parent you have always wished to be?
I've created the Montessori Parenting Membership Community for that exact reason. Find out about it here.