I was fortunate enough to visit three schools during an organized tour at the 27 International Montessori Congress, and an additional one on my own while in Portland.
A long line of yellow school buses loaded up curious adults that had traveled from all corners of the world.  A volunteer welcomed us and informed us of the schools we were to discover. Childpeace Montessori School, Sunstone Montessori School, and West Hills Montessori School. All three were very different yet the prepared environments are universal and so beautiful. On my own, I also visited the Montessori School of Beaverton.

As a way to process the intensity of this amazing Congress, I created some collages of the photos I took during the school tour.
These photos are of course all taken in environments for a multitude of children, but many of the practical life, care of the environment both indoor and outdoor activities can easily be adapted in the home of the young child. Double click to see the full picture!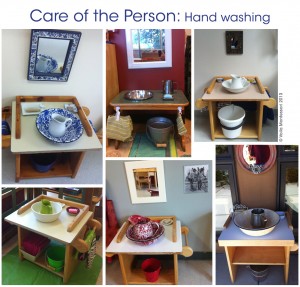 Hand washing is shown from a very early age, first only the hands then the brush is added for the nails.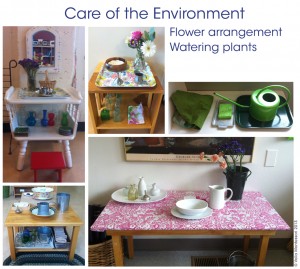 Flower arrangement is presented at a very young age. Children take great pride in beautifying their environment.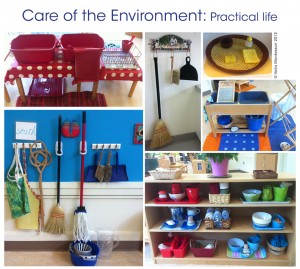 Practical life are those everyday human activities the child is so often fascinated with.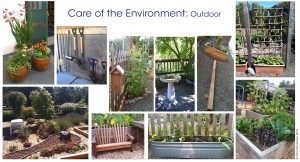 The child is attracted to the beauty of nature in the outdoor environment.
An immense thank you to all the guides and administrators that welcomed us with such a delightful example of grace and courtesy.
Visiting these did stir up some nostalgia for my time spent meticulously preparing the environment.I hope to work with more and more families to bring this beauty and order into the lives of children.
Enjoy,
Jeanne-Marie