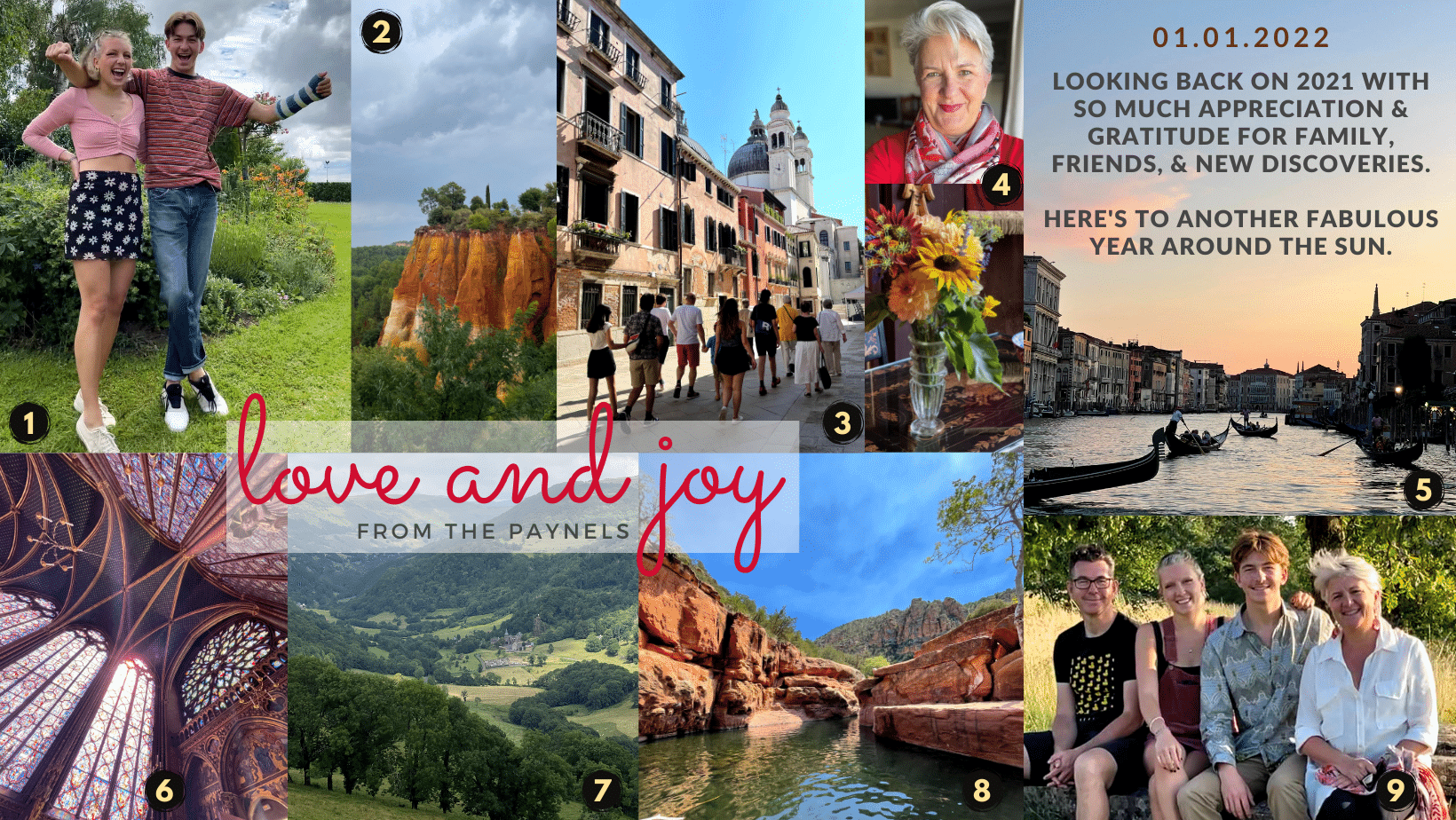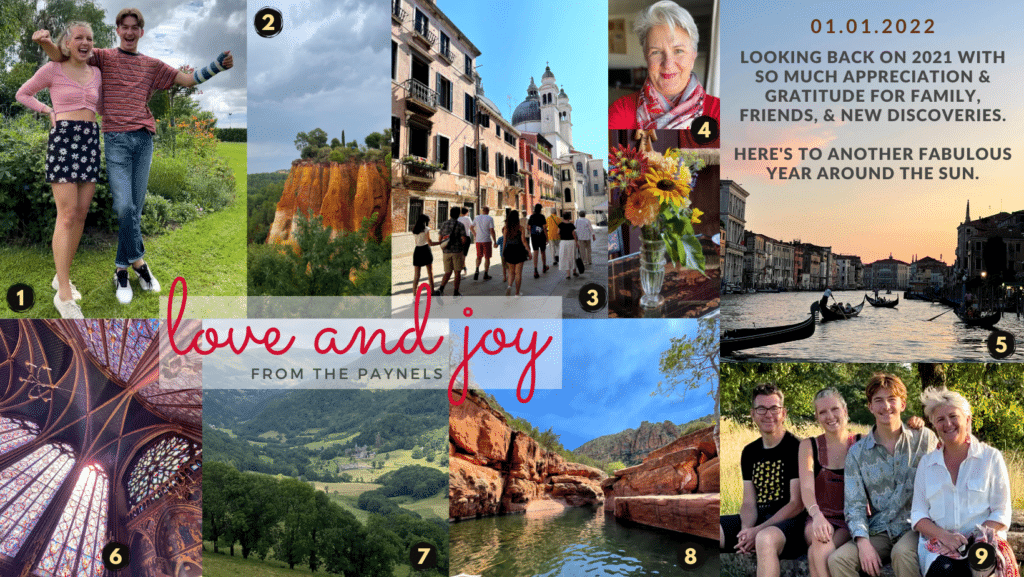 Before we can start fresh it's always a good idea to take stock of what was or was not accomplished in the preceding year.
It's the first of the year, a gorgeous but cold day to welcome 2022. I've decided to stay in bed a few extra hours, as I was inspired to create the above card for family and friends (I gifted myself the pro version of Canva and love it).
As I take stock of the year that has just passed I have an overwhelming appreciation and gratitude for my family, friends, and all of the first-time discoveries I was able to experience in 2021.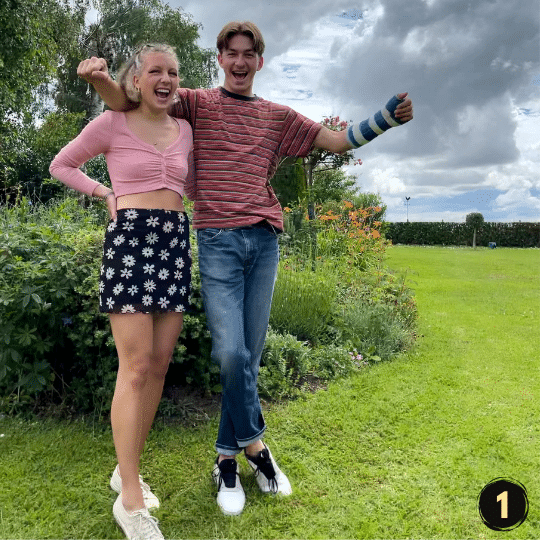 Eliza 25 and Adrien 21 were reunited after three years of being on separate continents. That means three years without both my children together under the same roof. I have to admit this was definitely one of the highlights of 2021.
Eliza is settled in Scotland after graduating in June from the University of Glasgow with a Master's in History of Art and Politics, with honors, I might add (proud mama over here).
And Adrien lives and attends the community college in Santa Barbara, California while making the most of the world-renowned hills that surround him as he lives out his passion of being a downhill skateboarder.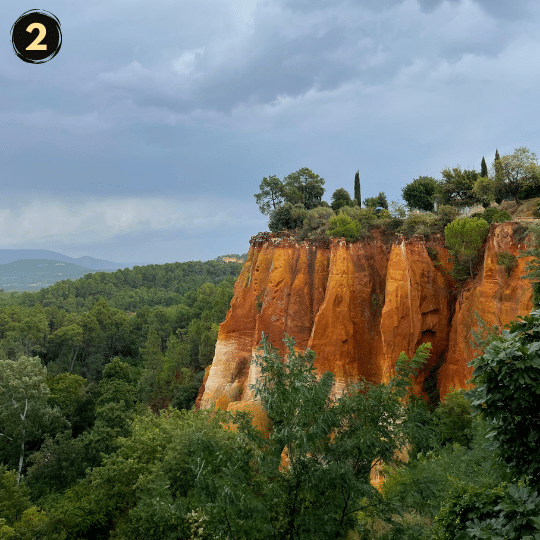 Much to my surprise, this past year had lots of new travel discoveries. I visited Roussillon in the Luberon region with a dear friend from San Diego who now lives in France with her family.
The town is known for the amazing colors created from this earth for artists to enjoy.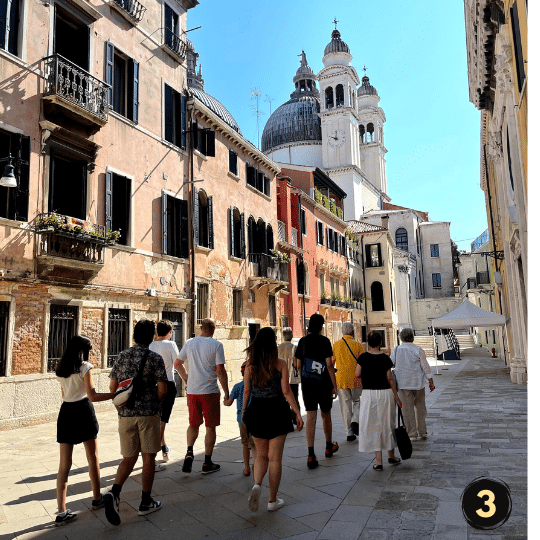 A first this year was visiting Venice under extraordinary circumstances and not alone I might add. Well, there were minimum tourists, as in no one, due to the global pandemic. But I got to experience it with 22 (yes, twenty-two) family members ranging from 88 to 8 years old.
It was an epic four days thanks to my amazing father who had been dreaming of sharing his love of this city with us. As soon as he learned travel had opened up again for Italy he reserved the entire pensione he's been accustomed to staying in with his wife and off we went.
I am beyond fortunate to have a father who prioritizes experiences before anything else, he has already taken us to some amazing places and Venice was yet another exceptional adventure.
Thank you, Papa. There are many more photos over on the Venice highlight.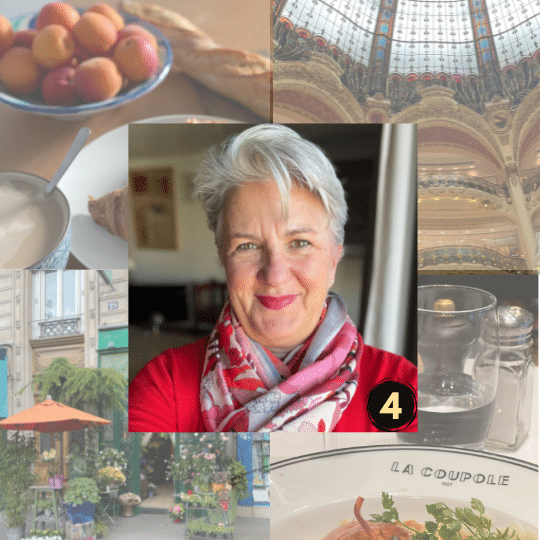 Oh, that's me having a grand time in Paris celebrating a milestone birthday. It just so happen I was alone during the day so I decided to do exactly what I love most in Paris, long walks, a little bit of shopping and a nice spa date.
Later, my father, stepmother, and I had a delicious dinner at the famous La Coupole, also famous for their huge birthday candles.
This is 60 baby!
The best present thou was the next day when I was reunited with my daughter Eliza at the train station after two years of not being able to see each other due to travel bans.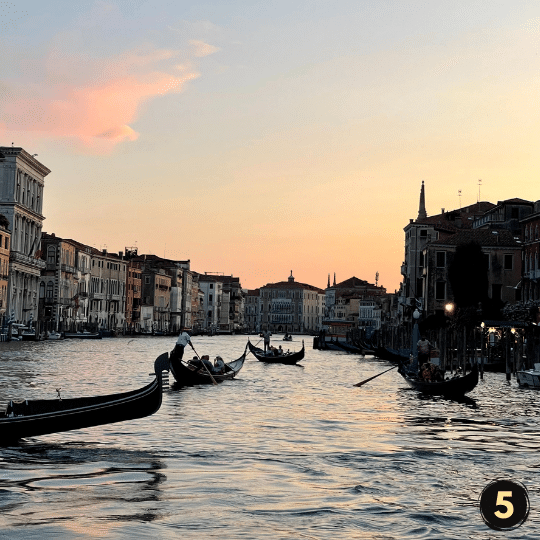 So yes, Venice is truly magical, day or night. My father and stepmother had everything planned. We visited Saint Mark's Basilica with an extremely knowledgeable guide.
She shared with us at the end of the tour, that she normally has about 30 minutes to give a tour, but because of the lack of tourists, we were with her for two and half hours. A truly spectacular place.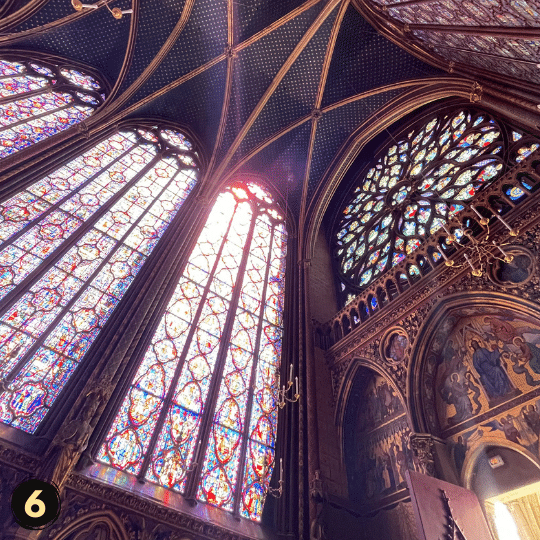 Before heading to Normandy and Venice with the family Adrien and I took the time to visit the Sainte-Chapelle in Paris a hidden gem of 14th-century gothic architecture. If you want to see more of the travel in France check out the highlights on my Instagram account. ?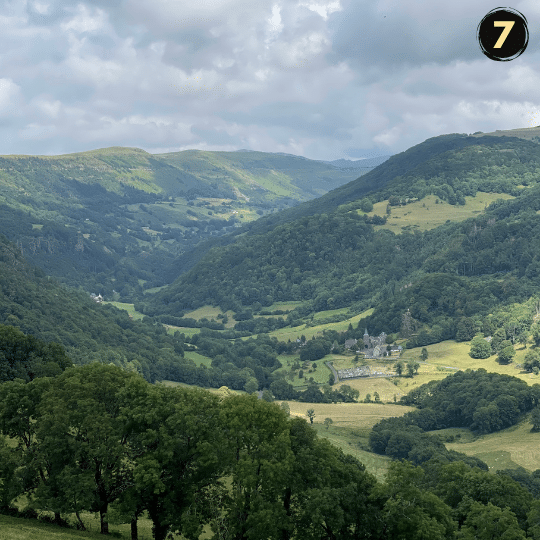 A special road trip with my older sister Françoise took us to Auvergne to visit a dear childhood friend. Our mothers, both American journalists living in Paris, were best friends when we were growing up.
It's amazing how those connections know no time or boundaries, we simply pick up where we left off, with lots of laughter.
This is the viewpoint from the park in Salers, France.
Françoise and I are just three and half years apart yet we've managed to live on different continents most of our lives. So doing a road trip just the two of us was extra special.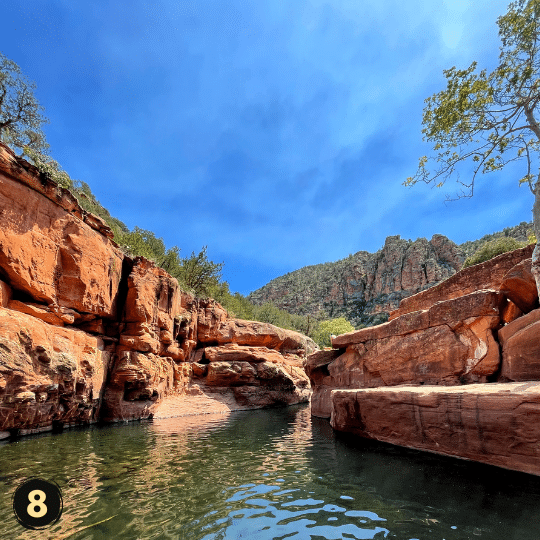 The global pandemic has definitely democratized the notion of remote working so what better place to work than from Sedona, Arizona. I've always wanted to go and it's just a seven-hour drive from our house. My husband and I decided to go discover this spectacular place. There I was able to meet up with some local friends who took me swimming at The Crack at Wet Beaver Creek after a long and arduous hike.
On our way to Sedona, we did stop at the Montezuma Castle National Park, I highly recommend the detour. The park has remains of dwellings dating back to 1100-1425 AD.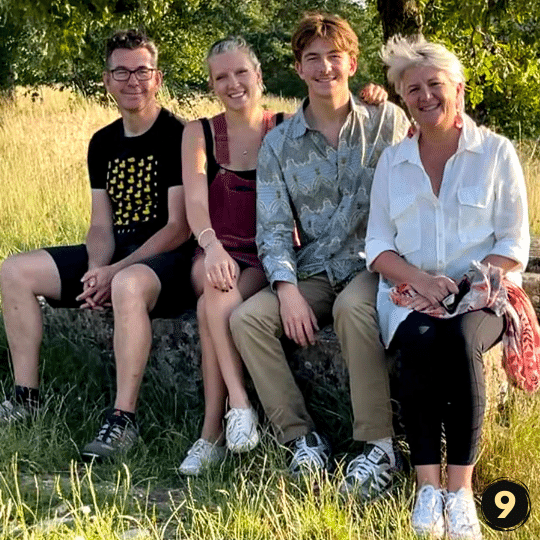 Before everyone went off their separate ways again we took a rare family photo by Saint-Martin de Laives, a small Romanesque chapel in Burgundy.
I've been going there for as long as I can remember, being able to share this place with my family make it even more exceptional.
Here's to another fabulous year around the sun to you. Wishing you and your family a fabulous 2022 creating beautiful memories together.
Alongside all the wonderful memories created in 2021, the year will go down in the books as a year of healing for me, as well as grateful to have made it to 60 surrounded by friends and family.
Age truly doesn't matter, growth and healing can happen at any age.
Professionally, 2022 is already off to a great start and it's only day 4!
Excited to get my podcast The Art of Parenting podcast back on the airways and welcome more students to The Parenting School that launched in December. Make sure to check it out here, and let me know if you have any questions.
As you start the new year know that I also have a few openings for private one-on-one mentoring, whether you're about to welcome a little human in your life or already feeling frazzled by one.
I'm here for you, you can book a time to speak with me to learn more about working together. Book your discovery call here.
2021 also brought many new professional collaborations which I look forward to nurturing in 2022.
To start, I'll be collaborating with two french women Pauline and Cyntia who just created a new Instagram account "Mama Potia" providing postpartum support for both French and English-speaking families.
They've invited me to do some monthly IG lives to share more about what is and what is not Montessori parenting. I'll be doing the lives in both French and English, wish me luck, and please give them a follow @mamapotia to encourage their dedication and great work. The first live is planned for January 12, 2022.
I'll of course continue recording The Montessori Show with Simone Davies from The Montessori Notebook on a quarterly basis. The next show is scheduled for Thursday, March 10, 2022. You can sign-up to stay informed, receive the zoom link to join the live recording, and or the replay with all the resources shared during the show HERE. Makes sure to let us know the topics you would like us to cover or if you have any pressing questions.
May this year bring you the dreams and desires you wish for. You are the only one that gets to choose how you want to live this beautiful life.
Be well, my friend, and remember I'm always here for you.
Jeanne-Marie