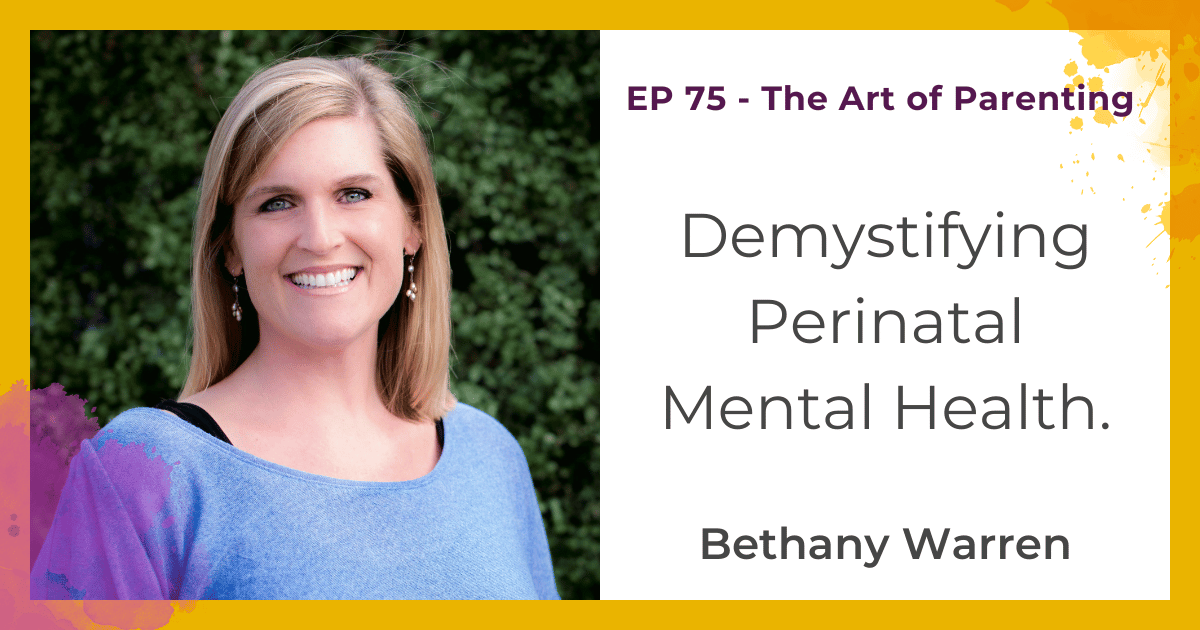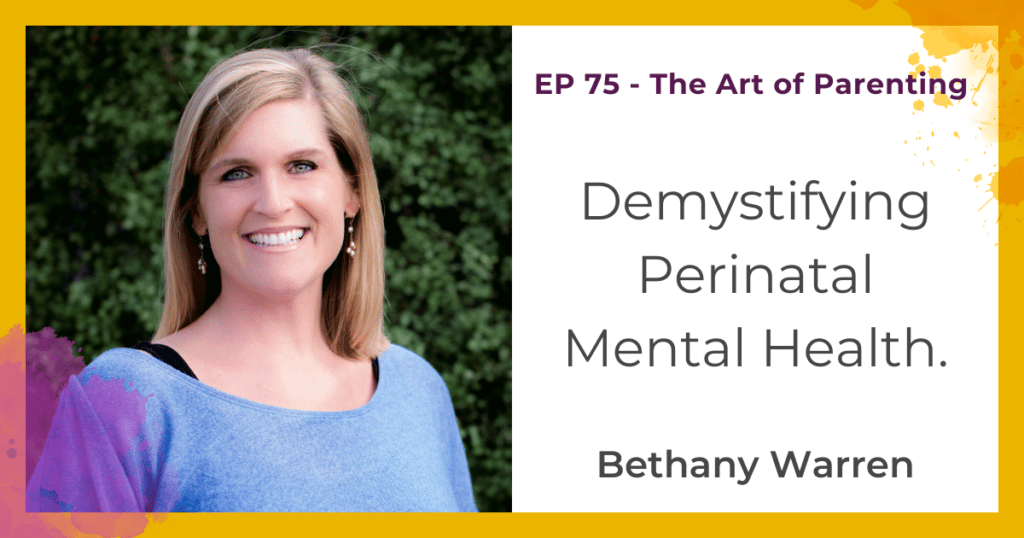 Our mental health during the reproductive years, called Perinatal Mental Health can be a lot to handle. Learning what to watch out for and knowing when to ask for help is critical. Listen in as Bethany shares her expertise with us.
Once you've listened, come share your takeaways or ask questions in your dedicated FB podcast group.
What We Talked About
The importance of supporting new parents, parents-to-be, and those struggling with infertility. 
What exactly are Perinatal Mood and Anxiety Disorders (PMADs)
Some red flags that might mean you're suffering from PMADs
How to parent while recovering from birth or reproductive trauma
Breaking multigenerational patterns and learning to parent in our own ways
Things to Remember
"Your moods are going to change when becoming a parent, your emotions are going to change during pregnancy and the postpartum period. It's important to de-pathologize that."
"You're the best advocate and expert on you. If you are feeling off, please get help."
"If you're noticing that you're struggling on whatever level, it doesn't have to be that you are severely impacted, you deserve support and care."
– Bethany Warren
"Do I wish I had never endured postpartum depression? Absolutely. But to deny the experience is to deny who I am." – Bryce Dallas Howard
You are not alone. You are not to blame. With help, you will be well. – unknown
"Being a mom has made me so tired. And so happy." – Tina Fey
Additional Resources
The Pregnancy and Postpartum Mood Workbook: The Guide to Surviving Your Emotions When Having a Baby
Let's Continue the conversation…
I want to hear from you. Be sure to join our dedicated Facebook group.
Click here to join The Art of Parenting with Jeanne-Marie Paynel, M. Ed. Private Facebook group and let's continue these wonderful conversations there. Come share your successes and challenges and get your parenting questions answered.
Now, Bethany and I want to know from you!
 Are you looking for answers to your mood shifts during pregnancy or postpartum? Listen in to find your answers.
Remember The Art of Parenting was created for you, if you have any suggestions for experts I should have on the show or parenting questions you want to be answered please fill out the form below.
Click here to submit your parenting questions.
More About my Guest
Beth is a psychotherapist in private practice in San Diego and has worked in reproductive mental health for over 20 years. She is certified in EMDR therapy and Perinatal Mental Health, specializing in perinatal mood and anxiety disorders, birth trauma, pregnancy loss, and infertility. Beth is also an EMDRIA-approved consultant and facilitates EMDR training.
Beth has worked in both hospital and outpatient psychiatric settings and has led postpartum support groups for new mothers. Beth is a current member and previously served as the President of the Board of the Postpartum Health Alliance.
Beth is a regular speaker and lecturer and is passionate about spreading awareness about reproductive mental health treatment and trauma. Her book, written with Dr. Beth Creager Berger, The Pregnancy and Postpartum Mood Workbook, was released last year and helps new parents build skills to navigate their emotions through their journey of parenthood.
Show Sponsor
---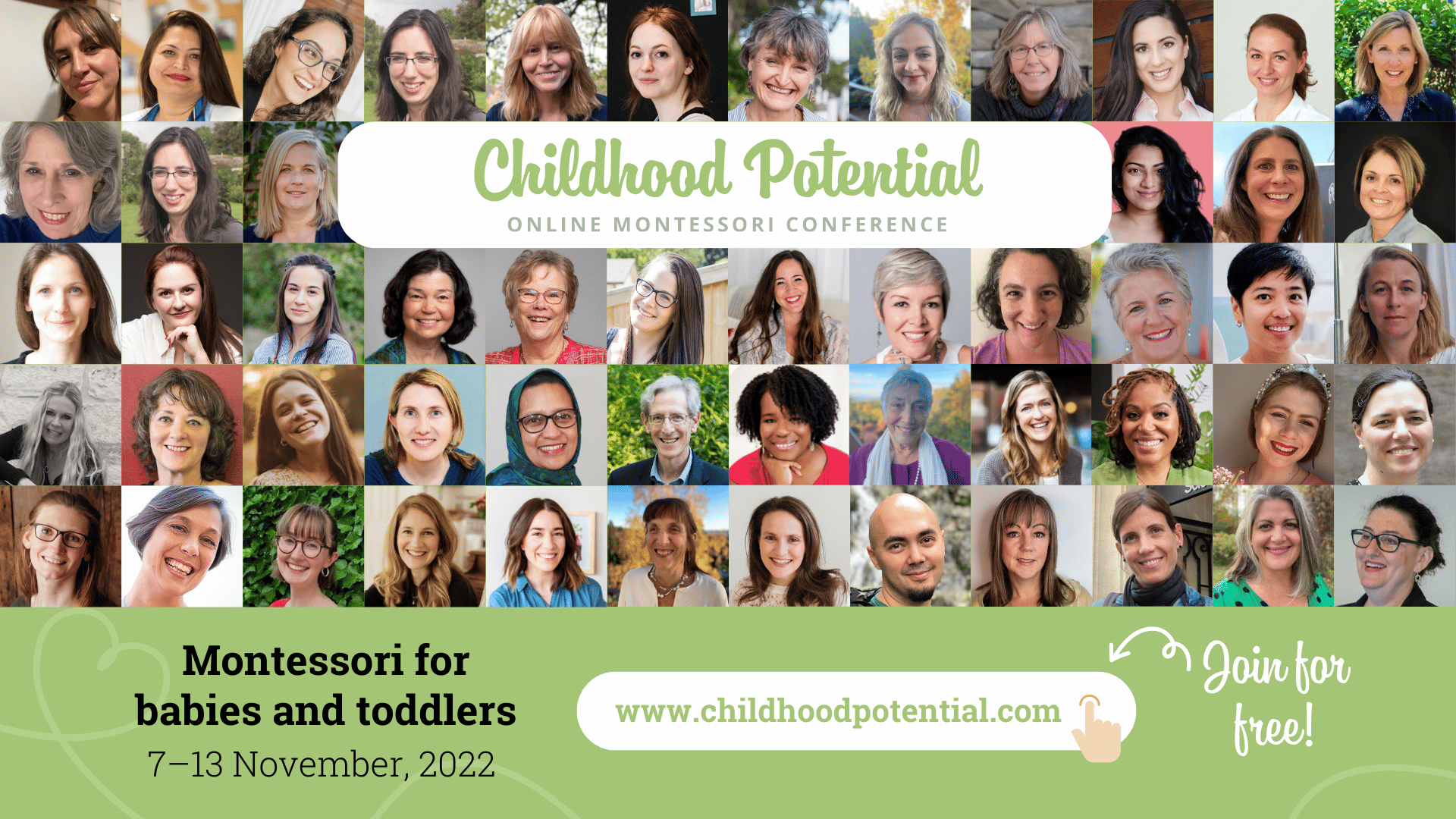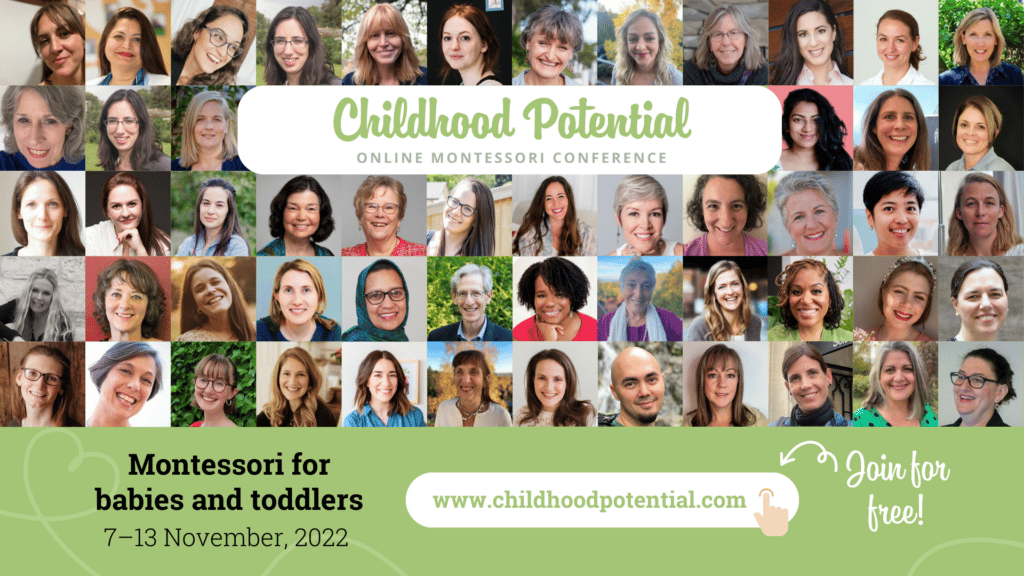 ---