I was able to attend The Association Montessori Internationale (AMI) General Meeting in Amsterdam, this past Sunday (April 15, 2012). It just so happen that I was in France for the spring holiday and decided to take the rapid train from Paris to Amsterdam, Saturday evening. How fortunate I felt having this opportunity! I decided to attend the Open Forum which was to focus on reaching out to parents. Arriving in the morning at the Industrieele Groote Club in Dam Square.
I was happy to meet up with many of my fellow Montessorians from around the world such as Mariana Popescu from Romania who opened her own school 5 years ago Montessori of Bucharest, Nadine Rozenoer "a Montessorian gypsy" on her way to Israel, Francene Steele-Fletcher from Jamaica and Irina Isaeva from Moscow. I was also fortunate to re-connect with both my trainers Dr. Dubovoy and Judi Orion. As well as meeting other Montessori trainers such as Patricia Spinelli from France and Chacha Vidales from Canada.
The day was filled with rich and inspirational information on how to engage parents, it was pointed out that we are not parent educators but Assistants to Parenthood. The day was comprised of two presentations in the morning and two after lunch.
– Louise Livingston; Aid to Life, shared with us the many ways we can use the material created by aidtolife.org to assist parents in choosing healthy practices that will promote the natural development of their children from birth through early childhood (0-3). All proceed of the material purchased will be used to expand their work for the other age groups. aidtolife.org
– Sylvie Mittelman-Gaglewski; Designing a Program for Parents. Sylvie was very inspirational to me, for it really related to what I am trying to bring to the community with Voila Montessori. She has created a series of parent workshops, aimed at helping parents from all walks of life to be aware of the different approach Montessori brings to parenting. One example I really enjoyed is the "homework" given to the parents; observe your child and create a material that will engage him or her. Some beautiful example of original material was created by the parents. Les Enfants de l'Amiral
– Mary Caroline Parker; "The Silent Journey" workshop for Parents. The Barbara Gordon Montessori head of school, took us through the organization of a truly beautiful Silent Journey from the Infant Community through the Upper Elementary program, enriched with parent testimonials. If ever you have the opportunity to participate in a Silent Journey I would strongly encourage it.
– Steve Hughes; School 2.0. Dr.Hughes presented a very well documented analysis of the educational crisis we are presently in. Though he was preaching to the choir in Amsterdam, his presentation should be shared with those not yet convinced of the wisdom of Montessori education. For the full version of his presentation School 2.0
After the Forum I decided to go visit the AMI headquarters and the Montessori museum. A few of us got onto the #2 tram taking us into a more residential neighborhood. Here are a few pictures of this moving pilgrimage to the last home of Maria Montessori.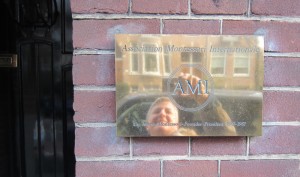 The Head Office of the Association Montessori Internationale is located in Amsterdam, The Netherlands.
The building, which houses the AMI Secretariat, was acquired for Dr. Maria Montessori and Mario Montessori before their return from India. They lived and worked there until their respective deaths in 1952 and 1982.
It now preserves all traces of their work – documents, books, published and unpublished lectures.
The building features Dr. Montessori's study, a materials room and an archival library.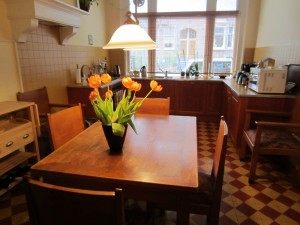 As you enter the house on your right is the kitchen, which gives out onto the street.
One can only imagine the great conversations that occurred around great food.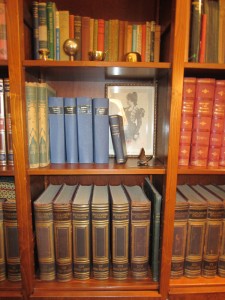 On the ground floor next to the kitchen is the library.
Among other items one can see the collection of encyclopedias, used by Dr. Montessori.
I did not open the books but I was told they are marked up by her.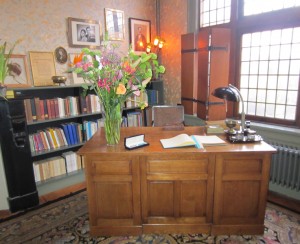 On the first floor is Dr. Montessori's study. Entering this room was a rush of emotion. To think I was standing in the room where Maria Montessori, thought about and contemplated the faith of the child world wide.
The room is adorned with many photographs, paintings, honorary degrees as well as gifts give to her
and her son Mario Montessori all along her career.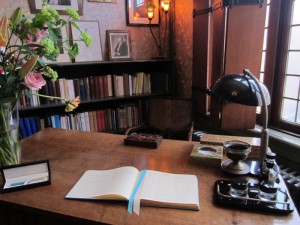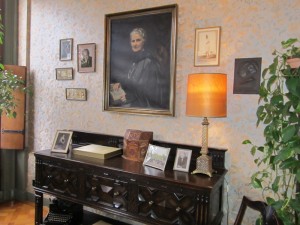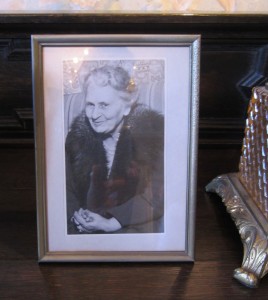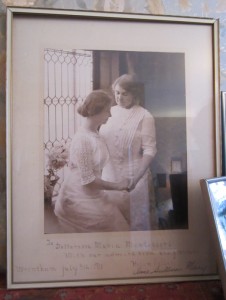 This was a beautiful image, at the bottom is written;
To Dottoressa Maria Montessori with our admiration and gratitude signed,
Helen Keller and Anne Sullivan Macy, July 1913.
Dr. Montessori writes about their inspiration in her preface to Dr. Montessori's Own Handbook.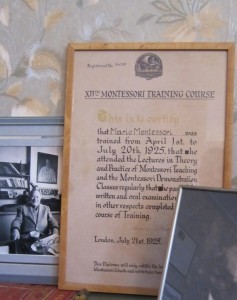 On the shelf next to the desk, is Mario Montessori, diploma, it reads:
12th Montessori Training Course
This is to certify that Mario Montessori was trained from April 1st to July 20th 1925, that he attended the Lectures in Theory and Practice of Montessori Teaching and the Montessori Demonstration Classes regularly the he passed the written and oral examination… in other respects completed… course of Training.
London, July 21st, 1925.
Notice how the "s" was blacked out.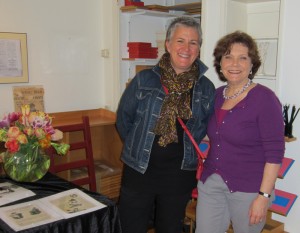 One of the highlights of this visit was meeting with Carolina Montessori, Maria Montessori's great-granddaughter (daughter of Mario Montessori Jr.).
She had set out for us some articles and letters dating from 1913, in preparation for the Montessori Congress taking place in Portland in 2013 (Edited, April 2020, next congress will take place in Bangkok, Thailand).