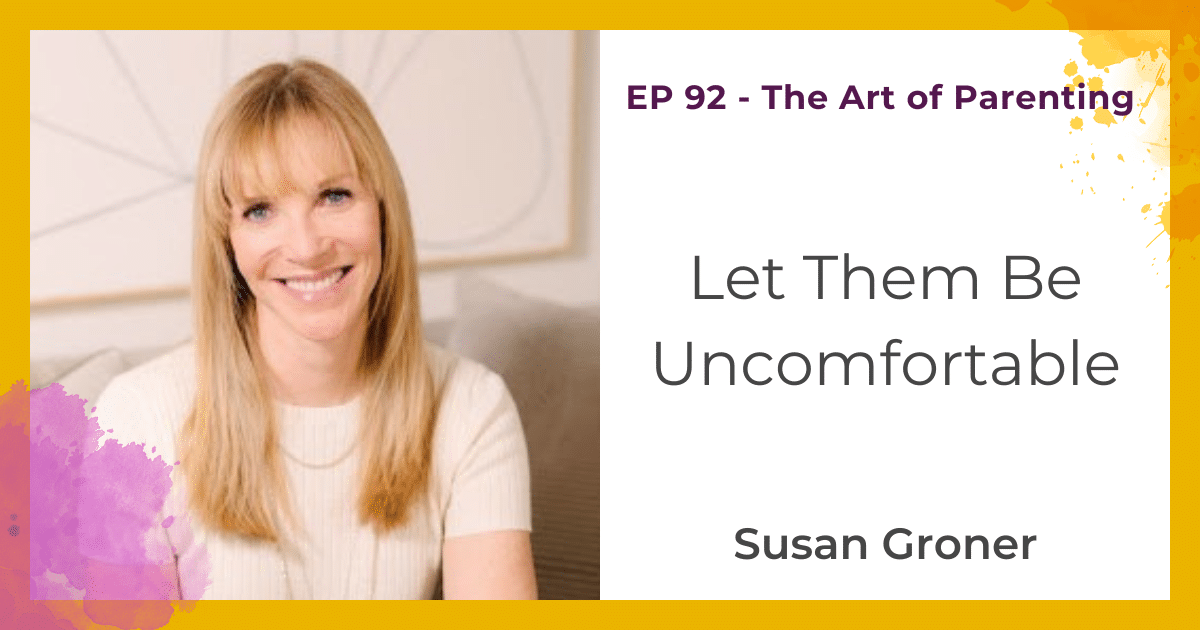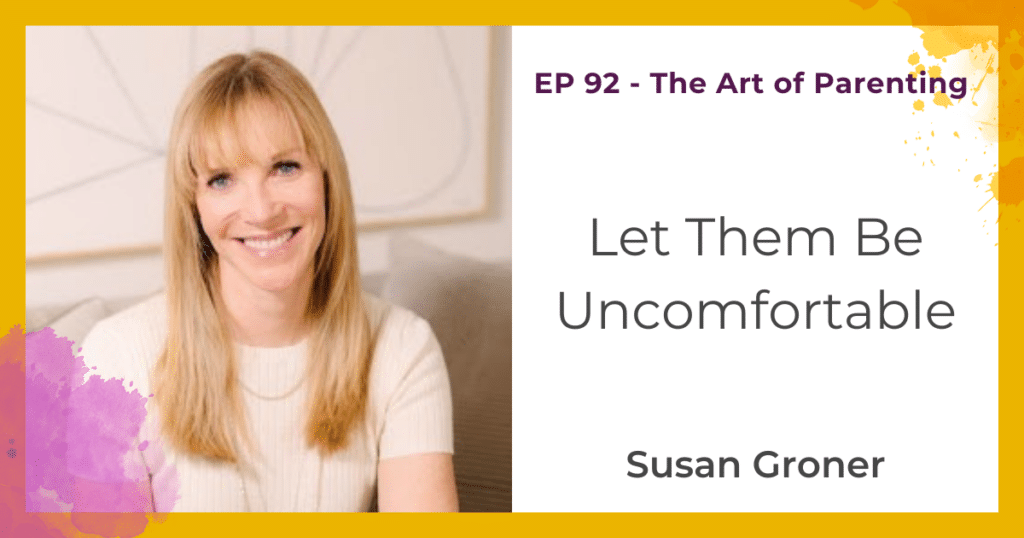 Today, Your Parenting Mentor interviews The Parenting Mentor and how she discovered her calling and made good use of her experiences as an anxious parent and why she believes letting our children be uncomfortable at times is essential.
What We Talked About
Sue's CLEARR Method explained which includes Communication, Love, Empathy, Awareness, Rules/Respect
How can parents break free from believing they are in charge and control everything?
Allowing our children to feel uncomfortable
Shifting our perspective to be better guides for our children
Things to Remember
"Our kids deserve respect; hearing their ideas, their feelings and validating those feelings."
"Kids don't like to be dictated to."
"It's a huge privilege to watch a human being develop, evolve and grow."
"Sit back and enjoy the ride. Stop wasting time, you don't need to micromanage your children."
"I wish I had me when my kids were younger."
– Susan Groner
"Free the child's potential and you will transform him into the world." – Dr. Maria Montessori
"By acknowledging our children's emotions, we are helping them learn skills for soothing themselves, skills that will serve them well for a lifetime." – John Gottman, Ph. D
"When our children see us expressing our emotions, they can learn that their own feelings are natural and permissible, can be expressed, and can be talked about. That's an important thing for our children to learn." – Fred Rogers
Let's Continue the conversation…
Now, Susan and I want to know from you!
Are you tired of feeling like you have to micromanage everything? Listen in to find out why you should not.
Leave a comment below and let us know, you'll also be helping others to know what is possible.
Remember The Art of Parenting was created for you, if you have any suggestions for experts I should have on the show or parenting questions you want to be answered please let me know here.
More About my Guest
As an experienced mother of 2 young adults, Sue Groner knows how stressful and overwhelming parenting can be at times. She founded The Parenting Mentor to provide an ally for parents in their quest to raise confident and resilient children.
Sue is the author of Parenting with Sanity and Joy. 101 Simple Strategies, is the host of The Parenting Mentor Sessions Podcast, and is a certified Positive Discipline parent educator.
Sue is also the creator of the CLEARR™ method of parenting, developed through years of trial (and her fair share of errors!) with her own family. CLEARR™ adheres to the belief that parenting strategies should be grounded in six important pillars: Communication, Love, Empathy, Awareness, Rules, and Respect. This has become the cornerstone of her practice as The Parenting Mentor.
A graduate of the Wharton School at the University of Pennsylvania and a former advertising executive, Sue is a frequent guest expert on ABC, CBS, NBC, and Fox to name a few, and provides advice for many national publications and websites such as The Wall Street Journal, Parents, Real Simple, Today.com, HuffPost, and Katie Couric Media.
Sue resides in New York City and Bedford, NY with her husband, and when she's lucky, with her children. She is available for speaking engagements as well as for private and group mentorship sessions(in-person or virtual) nationwide for individuals and corporations.
Show Sponsor

This episode of The Art of Parenting is sponsored by The Parenting School supporting you to raise curious resilient children while minimizing the overwhelm. Click here to get on the waitlist today.